​Compact, Versatile ID Card Printing for Entry-Level Users
Magicard's Pronto model is the perfect ID card and badge printer for entry-level, low-volume users.
A compact, versatile desktop ID card printer, Pronto is ideal for membership clubs and small businesses. 
Call Drew Carey at 800-856-4735 to request a quote.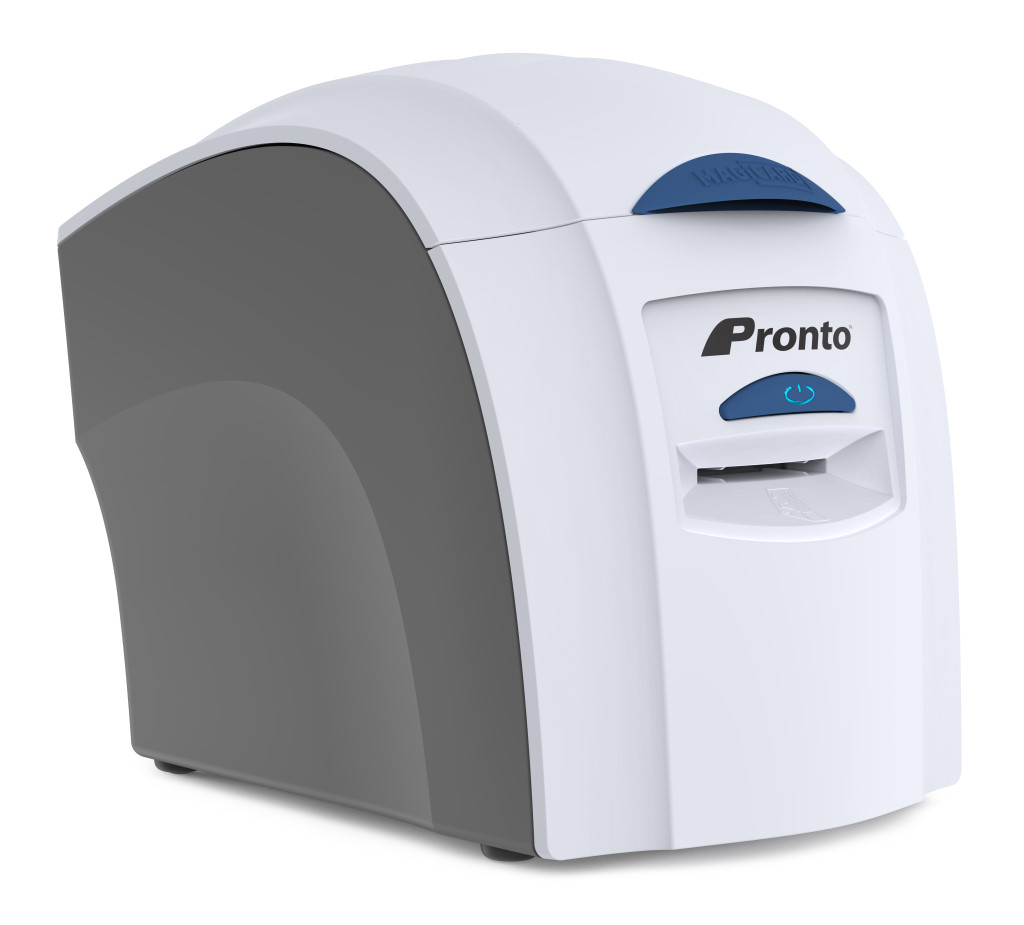 Magicard Pronto – Product Features
Single feed for on-demand printing
The Magicard Pronto printer features a single card feed that enables you to produce a personalized card on demand in moments.  Edge-to-edge and sharp image quality for simple and easy card printing in a compact and highly reliable package.
Rewrite technology
Using special rewrite cards, the Pronto color ID card printer can print and erase the same card over and over in monochrome blue or black, ideal for visitors passes and temporary badges.
Budget friendly and secure
The Magicard Pronto printer delivers low cost printing and free card visual security as standard with four HoloKote® watermark designs. Security can be further enhanced with magnetic stripe and smart card encoding options.
Robust, compact and portable
The Magicard Pronto printer's aesthetic curves showcase an ultra-robust product. Its light and compact design makes it easy to transport to any location and reside on any counter or desktop.
Power it up, install its easy to use driver, drop the dye film in and you are ready to go. Combine it with BadgeBuilder® Classic ID Software and you have an instant solution that could have you printing identity cards in minutes.
Magicard Pronto – Security Options
Customers have the option to add the following security features to their printed cards
HoloKote®
A standard anti-counterfeiting watermark printed in a grid pattern across the entire card surface. The Pronto HoloKote features 4 standard designs.
HoloPatch®
HoloPatch cards have a highly reflective gold 'super diffuser' foil square that enhances the visibility of the overprinted HoloKote logo.
Magnetic stripe
The Pronto can be specified with ISO standard 7811 compatible HiCo encoding of magnetic stripe cards.
Smart card encoding
Smart card encoding options: Contact chip, Mifare®, Desfire®, iClass®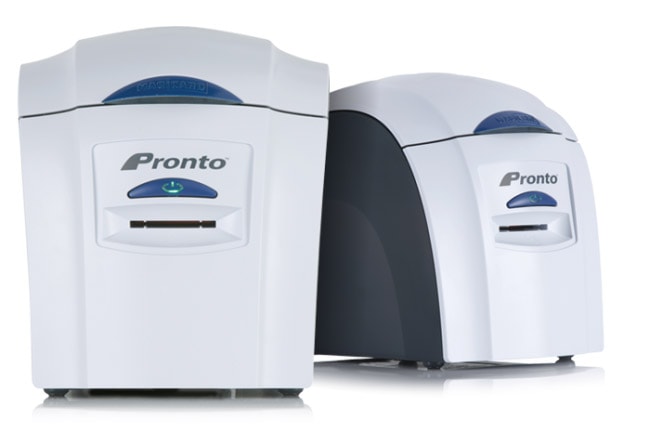 FREE 2-Year Warranty
Pronto comes with a FREE 2-year limited depot warranty for North American customers.
Magicard Pronto – Specifications
| Printer specifications | Details |
| --- | --- |
| Print mode | Color dye sublimation, monochrome thermal printing and rewritable technology |
| Print speed – single sided | Color: 35 seconds per card, Monochrome: 7 seconds per card |
| Encoding security options | Magnetic stripe: Smart card encoding: Contact chip, MIFARE®, DESFire® and iClass®. |
| Card capacity | Hand fed |
| Printer interfaces | USB rev.1.1 (USB 2.0 compatible) |
| Driver compatibility | Windows XP, Vista, 7, 8.1, 10 (32 and 64bit) Windows server 2003 R2 SP2, 2008, 2012, 2016. GNU/Linux and Mac OS X 10.9.0 onwards. |
| Weight | 4.4kg /9.7lb |
| Power source | External power supply 100-240V 50-60Hz autoranging. |
| Dimensions | 270mm L x 215mm W x 233mm H (10.6" L x 8.4" W x 9.1" H). |
| Operating environment | Sheltered office environment 10°C to 30°C / 50°F to 85°F. |
Model & Card Options
Magicard Pronto works with many different card coding options.  Choose your card option and see which model works with that card.
| Card Coding Options | Single Sided Printer |
| --- | --- |
| No Coding | Model 3649-0001 |
| Magnetic Stripe | Model 3649-0002 |
| Smart Chip | Model 3649-0003 |
| Smart Contactless | Model 3649-0003 |
| Smart Chip & Contactless | Model 3649-0003 |
| Smart Chip, Contactless & Magnetic Stripe | Model 3649-0003 |
Magicard Pronto – Consumables
You can replenish your Magicard Pronto with supplies of dye film (ribbons) and cleaning kits.
Dye Film (Ribbons)
MA300YM – CKOYMCKO 5 panel dye film, 300 images
MA100YM CKO – YMCKO 5 panel dye film, 100 prints
MA1000K-Black* – Monochrome resin black dye fi lm, 1000 images
Also available in *White, *Blue, *Red, *Gold and *Silver.
MA600KO – KO black and overcoat resin dye film, 600 images
Card types/thickness
CR80/CR79 PVC ISO blank cards, HiCo magnetic stripe, smart cards, self-adhesive,
rewritable and HoloPatch cards. 0.51mm to 1.02mm (0.020" to 0.040").
HoloPatch® cards
Use HoloKote with HoloPatch for a highly-visible gold seal on the card.
Cleaning kit
CK1 – 5 cleaning cards, 1 pen. CK1
Cleaning roller kit
3633-00545 cleaning rollers, 1 metal roller bar