​World Class ID Card Printing for Professional Level Users
Magicard 600 is the perfect ID card and badge printer for the high-demand professional user.
With its fast print speeds, stringent security features and fine-detail printing, the 600 delivers consistent quality with every card.
Need to integrate with your existing equipment? Not a problem. The Magicard 600 will work seamlessly with your existing infrastructure to deliver secure processing of ID credentials.
Call Drew Carey at 800-856-4735 to request a quote.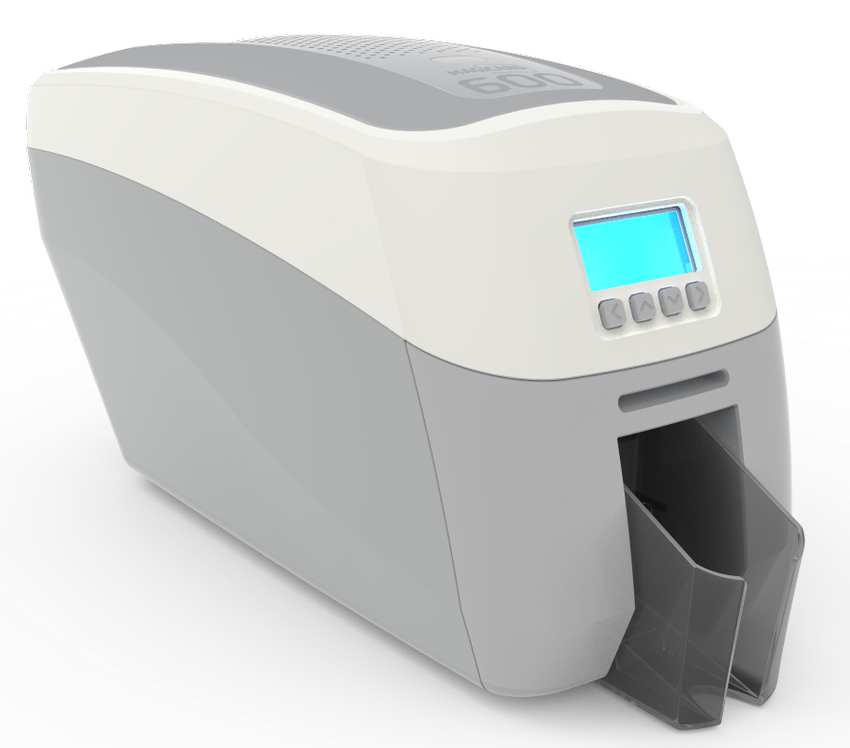 Magicard 600 – Product Features
Wi-Fi connectivity as standard via supplied dongle – IEEE 802.11b/g/n compliant with connection of speeds up to 300Mbps. Supports WPA and WPA2 encrypted connection (access point dependent).
Fine detailed printing – capable of printing at 600 x 300 dpi*, the Magicard 600 allows you to include even the smallest of text – and make it legible.
Superior quality –the Magicard 600 offers a wide color spectrum so printing is more vibrant and color-rich. That means a truer representation of the subject – perfect for photographs on ID cards and more accurate depiction of corporate logos and other images.
Plug and play – to get you up and running quickly and easily, the Magicard 600 integrates with existing network infrastructure 'out of the box' via USB, minimizing set-up time and requiring little technical knowledge.
Faster speeds – each full color, single-sided card, with HoloKote®, can be printed in under 20 seconds giving Magicard 600 the ability to print up to 190 cards per hour.
Updates and upgrades – the Magicard 600 keeps up to date with the latest features and fixes when they become available.
*resin only
Security Features
Digital shredding – once data has been used for the print job, it is fragmented, rendering it irrecoverable, helping to ensure the Magicard 600 is not a repository for data.
Anti-fraud – the Magicard 600 has the ability to print a customizable HoloKote® watermark on every card. Each device can receive up to 10 anti-fraud customized HoloKotes® direct to the printer via Magicard's web tool.
Threat benchmarked – we run security scans against the comprehensive vulnerability assessment tool, Nessus Pro, one of the most widely deployed security technologies in the world – and we push regular updates to the device, ensuring that the printer software and associated system configuration conform to the highest levels of security.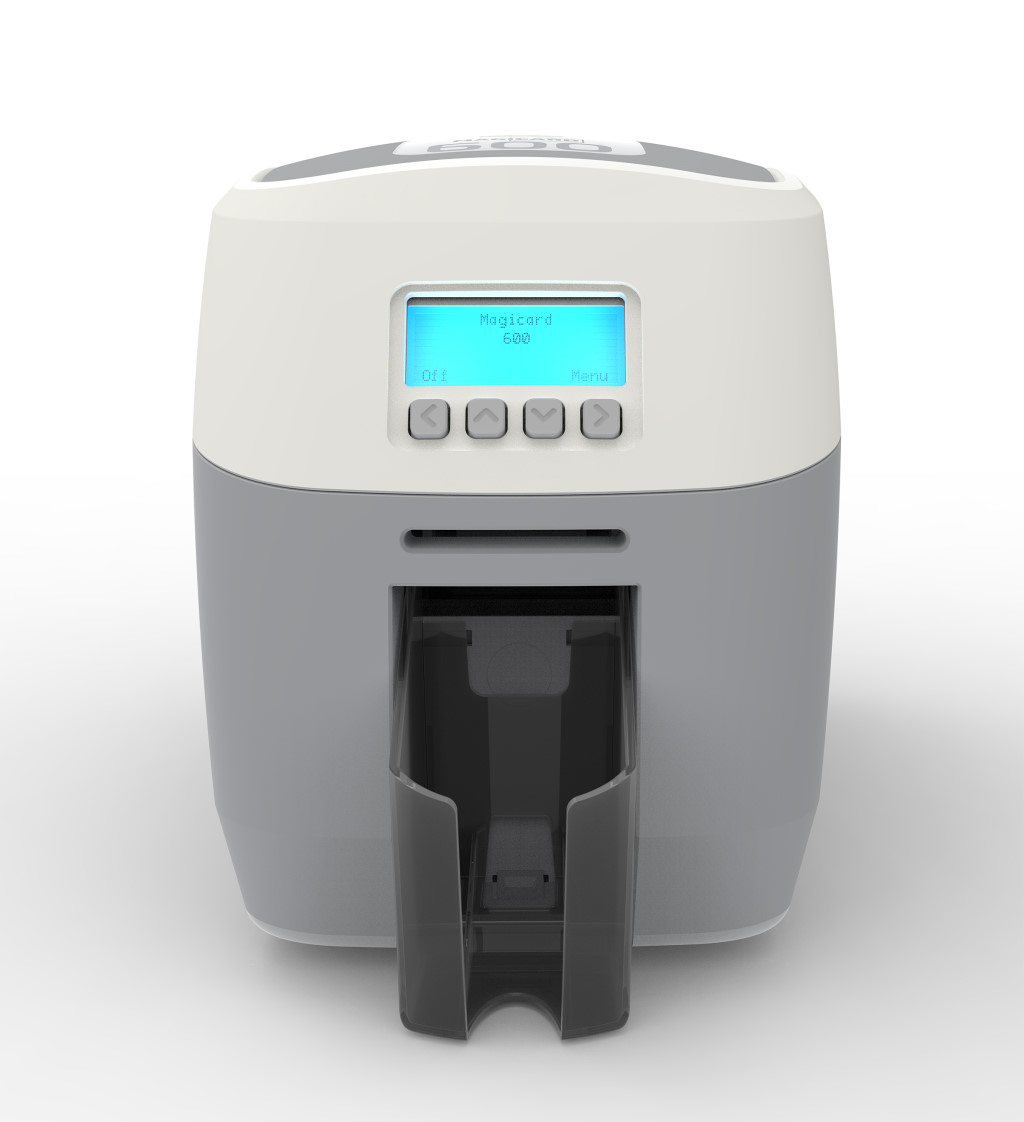 Custom Color Choices
The Magicard 600 comes as standard in a neutral grey as well as several other alternative casing colors.
Choose from red, yellow, blue, black and white.
Warranty Details
MagiCover+ Limited Warranty for Magicard 600 premium DTC printer:
3 years or 250,000 panels limited manufacturer's warranty covering electronic/electrical failure and bad workmanship.
Loan Printer if the above situation occurs and Tech Support is unable to resolve the problem (UK, EU and North America only).
Customer pays all carriage costs attached to return of printer to Magicard.
Magicard pays all carriage costs attached to sending the printer to the customer.
In case of printer failure within a 6-week period from purchase, Magicard will replace with a new device and cover all carriage costs.
Magicard will also provide distributors outside UK, EU and North America with loan printers to support warranty repair claims locally.
Magicard 600 – Specifications
| Printer specifications | Details |
| --- | --- |
| Print mode | Color dye sublimation, monochrome thermal printing and rewritable technology |
| Print speed – single sided | Color: 18s /card, Mono 5s /card |
| Encoding security options | Magnetic stripe: HiCo and LoCo ISO 7811, JIS2: /smart card Contact chip, MIFARE®, DESFire® and iClass®. Others available. |
| Card capacity | 100 card feeder, 70 card stacker |
| Printer interfaces | High Speed USB 2.0, USB 3.0 compatible – Type B, 10/100 Ethernet. External Host USB Port. Wi-Fi via supplied dongle. |
| Driver compatibility | Windows 7, 8, 10 (32 and 64bit) Windows server 2008, 2012, 2016. Mac OS X 10.9.0 upwards. Linux with CUPS support. |
| Weight | 4.7kg /10.4lb |
| Power source | External power supply 100-240V 50-60Hz autoranging. |
| Dimensions | 475.5mm L x 211.5mm W x 248mm H / 18.9" L x 8.3" W x 9.8" H (including feeder and stacker.) |
| Operating environment | Sheltered office environment 10°C to 30°C / 50°F to 85°F. |
Model & Card Options
Magicard 600 works with many different card coding options.  Choose your card option and see which model works with that card.  
| Card Coding Options | Single Sided Printers | Dual Sided Printers |
| --- | --- | --- |
| No Coding | Model 3652-5001 | Model 3652-5021 |
| Magnetic Stripe | Model 3652-5002 | Model 3652-5022 |
| Smart Chip | Model 3652-5003 | Model 3652-5023 |
| Smart Contactless | Model 3652-5003 | Model 3652-5023 |
| Smart Chip & Contactless | Model 3652-5003 | Model 3652-5023 |
| Smart Chip, Contactless & Magnetic Stripe | Model 3652-5004 | Model 3652-5024 |
Consumables
You can replenish your Magicard 600 with supplies of dye film (ribbons) and cleaning kits.
 
Product code
Details

Dye film
(Ribbons)

MB300YMCKO
Magicard 600 YMCKO dye film
MB250YMCKOK
Magicard 600 YMCKOK dye film
MB200YMCKO
Magicard 600 YMCKO dye film
MB600KO
Magicard 600 KO film
MA1000K-Black
Black monochrome dye film

Blank cards

–
125 KHz Proximity
M9006-794
Blank white cards with magnetic stripe – CR80
M9006-796
HoloPatch® blank white cards with gold seal – CR80
M9006-797
HoloPatch® blank white cards with gold seal and magnetic stripe – CR80
E9323
Magicard blank rewritable cards front & PVC back
M9007-011
Self-adhesive blank white cards – CR80