The power of membership ID cards for gyms and health clubs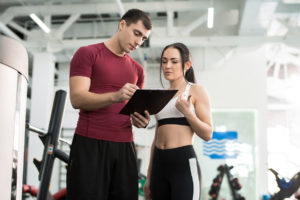 Every health club and gym uses membership ID cards of some sort.
You may have found them necessary if only to confirm a visitor's membership before they were allowed on the premises.  And that's okay.
But today, with the right cards and the right membership ID card printer, you can use your membership cards for so much more … to help you get more new clients and keep the members you already have.
Your membership IDs cards are a marketing goldmine
Health clubs and gyms use membership ID cards to give members access to the club, but they serve other purposes as well.
Membership ID cards can also be used to:
track member usage to alert you to declining interest before members cancel their membership.  This might be a good time to get on the phone with a member to find out why and offer some options.
bring in new members to your club with a 10-day pass or one-month trial. You can place limited-time trials right on the membership cards and track their actual usage during the trial.
sort members by training level or program interest. Not every gym member is the same.  Some are more active than others.  Some spend more money with you than others.  You can use this data to drill down and market more effectively.
manage payments for refreshments, products and services.  Your membership dues is one source of revenue, but your members spend money in other ways too – at the refreshment bar, for personal trainers and in the purchasing of tee shirts and other branded apparel.  Your membership cards could make this payment process so much more convenient.
Why you need a way to produce membership ID cards in-house
So you have a new member signing up today – touring the facility and signing the paperwork.
Will you be able to give that new member a membership ID card before they leave?  Can you actually print the card while they wait?
This is critical because you want that member to use the card right away – tomorrow perhaps – and not have to wait for the card to mailed to them.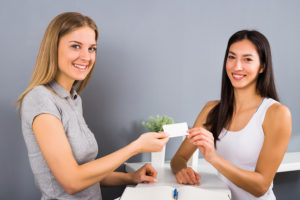 It used to be that a small or single unit gym or health club couldn't print membership cards in-house.
The printers (or card makers) were too complicated, too expensive or took up too much space.
Well that has all changed.
Today's newest models are accessible for even the smallest business with very little training needed for any staff member to operate.
The newest models are designed for tabletop use and very little footprint.
Pricing has come down too.  Today, there are models for many different budgets and applications.
But let's not get ahead of ourselves.  If you're just starting out, you may need more than a printer.  You might new a whole system.
Starting from scratch?  Let's look at a complete ID card-making system
When you're running a busy health club, the last thing you need is a complicated, multi-step process for creating photo ID badges.
What you need is a simple, but complete, all-in-one system that allows you to create, print and use photo ID cards on the spot – and quickly
Here's how it should work whenever a new member visits your club:
You ask and verify certain questions and type them into your laptop
You ask the new member to stand in front of your camera, click and upload to the laptop.
You preview the card on screen and, if you're satisfied, you press PRINT.
You give the new member the ID card before they leave the club.
Here's what you need to get started …
The Software – ID badge creation software
The Printer – D card printer with cards and supplies
The Camera – works with your software and printer
The Card Reader – provides access control to secured areas or buildings
Of course, you may already have some of these pieces in place. In that case, let's talk about the individual components.
Let's take a closer look …
1-The Software
Before you can print the ID card, you need to design it – and that's what the software will do for you.
We offer our own ID creation software called BadgeBuilder.  In three versions for different levels of usage and technology.
With BadgeBuilder®, all data is stored in a private database so a lost card is replaced in a flash without having to retake a picture or re-enter data. Simply pull up the database entry and print out a new card.
BadgeBuilder® is compatible with multiple cameras and printer lines, contains a powerful array of options and has full Windows® 7, 8, 10 support. All this makes BadgeBuilder® the choice for your ID creation needs.
2-The Printer (with ribbons, cards and supplies)
The printer is the workhorse of your ID card-making system.
We recommend the Magicard family of ID card printers.  You can choose a printer that best matches your printing, technology needs and budget.
Of course, you'll need printer ribbons, cleaning kits, blank or proximity cards and various types of badge holders, lanyards and other accessories.  And we can provide those as well.
3-The Camera
Pretty much any camera will work if you want to go through the multi-step process of uploading, retrieving, downloading and positioning.
But we offer a camera that eliminates all those steps.  Just shoot, click and the photo is automatically uploaded to the card design.
In other words, a camera designed specifically for the software.
4-The Card Reader
Card readers come in many varieties – from a simple barcode or card swiping reader to the more advanced magnetic stripe or smart card systems.
We can provide all types of card readers.
However, it's important to remember that the more advanced technologies may require some printer enhancements and the use of so-called proximity cards.
More about the Magicard family of ID badge printers
If you are in the market for a membership ID card printer or card maker, Magicard is a name you can count on.
Magicard offers a range or ID card printers to serve the needs and usage volume of every type of health club or gym.
From a simple, entry-level unit that prints in low volume to more advanced products that offer higher volumes and expanded technology, Magicard offers these three very popular models
You can find more about these printers (including pricing) by following the links above or by clicking here.
Reliable ID card printers – with all kinds of options
Magicard offers a range of ID card printers to meet just about any application or usage volume you might have.
Magicard also gives you these options:
Print one-sided or two-sided cards
Print in full color or one color
Add an ID photo
Print one at a time or in bulk
Produce cards for scanning, swiping or smart recognition
Prevent counterfeiting with its patented Holokote watermark technology
Want to get started?  Let's talk first.
If you're new to all this … if you are considering your first ID card printer purchase, we invite you to call us – actually call our Magicard expert, Drew Carey.
Drew knows these product inside and out – and he will walk you through a series of questions to help you determine which model makes the most sense for you.  He will also explain what supplies and accessories you might need to get started.
Interested in a "starter bundle?"  Drew will be happy to put together everything you need to get started.  And you can be sure he will give you the very best pricing we have available.
You can reach Drew by phone at 800-856-4735 or by email at sales@secureidbadgesupplies.com.